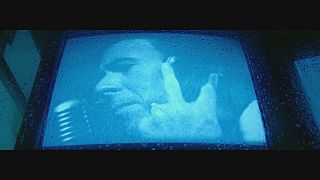 Echoes from the grave and what has been called one last transmission from the Bowie universe. The songs from 'No Plan' were recorded during the sessions for the singers final album.
'No Plan' was released at one minute past midnight on January 8th, the day that would have been David Bowie's 70th birthday. Bowie wrote and recorded these songs when he knew he was dying of cancer.
David Bowie's 'No Plan' video was filmed in a laundrette in Brockley | https://t.co/hHJGqKjji9

— ★ Lazarus ★ (@Lazarus_Musical) January 12, 2017
Two days before his death 'Blackstar' was released. The saxophonist Danny McCaslin played on the album and recalls the aura of the star
"From the moment he walked in the room you jut felt this fierce sense of presence. But also this lightness and just this, he was just taking everything in and he was focused but not manic. He was just focused, relaxed and just really on point. That was really inspiring," he said.
This posthumous present from Bowie is actually a mini-album of four titles including three which were unpublished. It includes "Lazarus" which was on his last album "Blackstar" as well as three songs written by the artist for the musical "Lazarus" currently playing in London.
New Video! David Bowie – No Plan https://t.co/WEDHxYYLPK via davidbowie_news</a></p>&mdash; David Bowie News (davidbowie_news) January 8, 2017