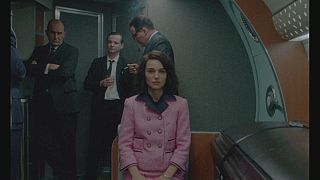 Actress Natalie Portman has become a strong contender for this year's Best Actress Oscar for her portrayal as former first lady Jackie Kennedy.
The starring role in the film "Jackie" was a demanding one.
" I watched a lot of footage. There is, of course, a great wealth of information out there so I really studied the White House tour because we were recreating it so exactly, so specifically, and worked with a dialect coach.
'So, we just listened to it sort of obsessively and even where there were sort pauses and stumblings, those sort of things and then I read just everything I could," the actress explained on capturing Jackie Kennedy's accent.
The film "Jackie," explores the nuances of these public and private sides of the enigmatic figure in the immediate aftermath of the assassination of her husband in 1963 as she plans the funeral, leaves her home, comforts her children and tends to her husband's legacy.
WATCH: #NataliePortman talks importance of wearing #Jackie's iconic dress from the day of JFK's assassination for most of the film pic.twitter.com/uUXd9vLa2P

—

TODAY

(@TODAYshow) November 29, 2016
"The assassination was obviously a traumatic and tragic event for the whole nation, of course the whole world even, not just this family and of course most personally and most intensely for the family of John F Kennedy, but, but that's part of Jackie's unbelievable power was that she recognized that it was not just for her, it was for everyone. Everyone was going through it. She had to lead them through the process because everyone saw if she could get through it then they would have to also," added the actress.
"Jackie" has already screened at the Venice Film Festival and the Toronto Film Festival. It is released worldwide from January 2017.