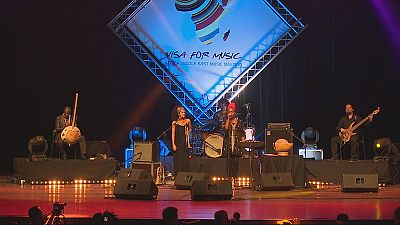 Among the many artists at this year's Visa for Music in Rabat, a fair for music professionals from across Africa and the Middle East, was Guinea's Sekouba Bambino, one of West Africa's most popular musicians.
Born into a musical family, Bambino comes from a long line of griots or African storytellers and poets. He has toured throughout Africa and Europe.
Karyna Gomes is a vocalist and percussionist from Guinea Bissau. She grew up listening to both traditional and world music, from Africa, America and Europe. She was particularly influenced by Cuban music she says.
"After independence when I was born, there were many Cubans in Guinea-Bissau who shared their music. I had uncles who studied in Cuba and who brought back music from there, so I was influenced by what you call Latin music," she says.
Gomes' trumpet player is the talented Jéssica Pina. "I did not choose the trumpet, the trumpet chose me because I was trying different instruments and I could only play the trumpet," says Pina, who started playing the trumpet as a child.
As for Karyna Gomes, she started singing gospel as a student in Sao Paolo. She now lives in Lisbon, where she's working on her second album.