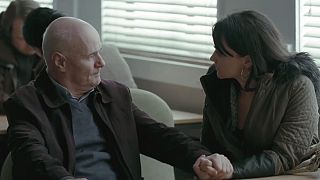 This week on cinema box we present I, Daniel Blake directed by Ken Loach and the winner of the Palme d'or at the Cannes Film Festival.
The film casts an unblinking eye on the reality of the UK's welfare system, which has been cut to bone by successive governments.
FILM OF THEDAY: Still not seen the KenLoachSixteen</a> directed <a href="https://twitter.com/idanielblake">idanielblake ? Extra screening ElectricBham</a> today <a href="https://t.co/IdFHbTGASN">https://t.co/IdFHbTGASN</a> <a href="https://t.co/bj8sD1kE6X">pic.twitter.com/bj8sD1kE6X</a></p>&mdash; BirminghamWire (WireBirmingham) November 22, 2016
Daniel Blake is a 59-year-old carpenter who suffers a heart attack and is forced to seek disability benefit. Yet the private agency that deals with his claim deems him fit for work and turns his request down. His alternative is unemployment benefit in order to receive a pittance…he enters a cruel bureaucratic labyrinth.
Seen I, Daniel Blake? Well see it again! Today's #IDanielBlakeDay, so join the movement & head to a cinema near you: https://t.co/VenRolWyVTpic.twitter.com/D5aIhvobwn

— I, Daniel Blake (@idanielblake) November 17, 2016
'I, Daniel Blake' is a direct, hard-hitting, no-frills film where Loach mixes a professional and non-professional cast, which adds to the realism and dialogue.
The British director shows us a desperate country where people are forced to visit food banks. Where those in work are on zero-hours contracts with no guarantee of work… no regular schedule or income and are informed by text message if required to work.
At the age of 80, Ken Loach offers us a masterpiece of human dignity and a visceral revolt against injustice.
Enjoy, see you soon.