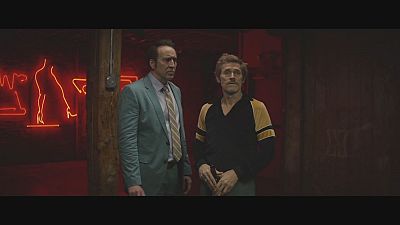 'Dog Eat Dog' is a dark comedy crime film with a strong cast, including
Willem Dafoe and Nicholas Cage.
the brutality that comes out of his frustration, but you also see where that frustration comes from

Actor
The brutal, bumbling ex-cons are hired to kidnap a baby and not everything goes to plan.
NYC! Catch "DOG EAT DOG" with live Paul Schrader Q&A This Saturday!https://t.co/HLLBiRaOMFpic.twitter.com/C5tfYsbmNd

— Fangoria (@FANGORIA) 25 October 2016
Paul Schrader wrote and directed the piece:"That's what become the most exciting challenge of the film was sort of look at the crime film and the history of it. Scorsese, Tarantino and Guy Ritchie. What does a crime film feel like anymore? To me it felt more and more like a kind of meta-jazz riff kind of genre and that's where the movie ended up heading."
Sneak preview of the highly anticipated DOGEATDOG with director Paul Schrader and writer Matthew Wilder in person: https://t.co/LeZN1xTMuHpic.twitter.com/7TPZZXgMpy

— Metrograph (@MetrographNYC) 27 October 2016
Willem Dafoe plays Mad Dog, drugged up and poorly educated:"But he's also sweet. He's needy, he needs to be accepted. So that combination, it sounds kind of jokey out of context, but it's nice because it's the brutality that comes out of his frustration, but you also see where that frustration comes from and it's not to justify the brutality, it's just to give a more well-rounded portrait of this criminal, done through a comic prism,but still it's full for me," enthused the actor.
Wrote about Paul Schrader's DOGEATDOG, a film that skilfully shifts from satire on America to moving earnestness: https://t.co/04OZchR8yupic.twitter.com/gWNwHRL0zI

— Elena Lazic (@elazic) 31 October 2016
The film includes Schrader's first ever on-screen appearance: "It's certainly nothing I wanted to do. Willem is a witness to the parade of people we tried to induce including mutual friends like Scorsese and Abel Ferrara. I even tried to get Rupert Everett to do it as a transsexual Cleveland gangster and in the end we ran out of money and time and I was the only one we could afford."
The film is currently out in the United States.
'Dog Eat Dog' is based on a novel by crime writer and former serial offender , Eddie Bunker.