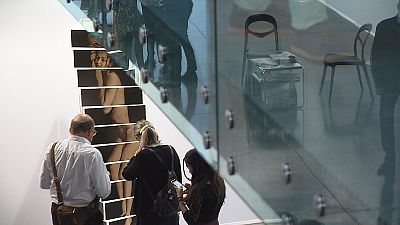 Art meets business at the Photo Docks Art Fair in the French city of Lyon.
Some fifteen international galleries are taking part in the exhibit where artists, collectors and photography enthusiasts can meet over the coming weeks to discover the work of emerging artists.
The aim of the fair is to develop the southern European art market and attract buyers from France and neighbouring countries.
Romain Houg runs a gallery in Paris. "Artists today want to go much further with photography, they are seeking new techniques, new ways of using the camera, new ways of making abstract photography, they're looking into new printing techniques and mediums, and so I think we are at the start of a new era in contemporary photography," he told Euronews reporter, Wolfgang Spindler.
Its modest fee makes the Photo Docks Art Fair accessible even to smaller galleries. Ramallah-based Gallery One has come to Lyon to show the works of Palestinian artists, Khaled Jarrar and Bashar Alhroub. Its mission is to promote Palestinian artwork to a local and international public.
"We are a very young gallery, we just opened like two and a half years ago, and I haven't really started working with the European market. Mainly, in the first two years I have been working in my region but now I am kind of trying to enter the European market," says the gallery's director Samar Martha.
Some of the works offer a very artistic approach to photography. Swiss artist Sandra Senn builds wooden structures, which look like houses or ships. But instead of making the structures accessible to the public, she takes photos of them. She explains why: "I am not interested in this work as a sculpture. I want people to explore these sculptures with their minds. I don't want them to just walk in, I want them to explore the sculptures further with their own imagination and ideas. If these buildings were open to the public, it would all be there for everyone to see, just like when the curtain comes down at the end of a show."
Paris-based Algerian-born artist Bruno Hadjih has been working as a documentary photographer for years. His work has been published in major newspapers and magazines like The New York Times, Le Monde or Stern. He was in Lyon to present his latest work on the Sahara desert).html.
"I've been working on this for ten years, it's all about the notion of desert, what does the desert conjure up in Western minds? So the starting point is philosophical, it poses questions about our consumer society, so the pictures are not just meant to look good on a wall, they have a meaning," he says.
Euronews' cultural reporter Wolfgang Spindler: "Today, anyone can call themselves a photographer. The Photo Docks Art Fair brings together outstanding photographers whose work is the result of a lengthy artistic process… much more than just pressing on a button and taking a snapshot."
The photos are on show in Lyon until October 9.