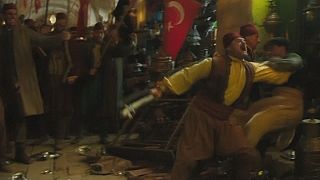 Christian Bale and Oscar Isaac hit the red carpet in Toronto where they have been promoting their latest movie, historical drama 'The Promise'.
Set during during the last days of the Ottoman Empire and the mass killings perpetrated against the Armenian population, the film follows a love triangle between an American journalist (Bale), an Armenian medical student (Isaac) and an Armenian artist (French-Canadian actress Charlotte Le Bon).
Asked whether he was concerned about tackling such a controversial subject – Turkey to this day refuses to call it a genocide – the film's director Terry George said the question lies elsewhere: "Why did it happen and what's going on? And expose the events to the world and let it breathe and help us plan that it doesn't happen again."
Also premiering at the Toronto Film Festival, 'Lion', starring Dev Patel and based on a true story.
https://youtu.be/UXEvZ8B04bE
The 'Slumdog Millionaire' star plays the role of an Indian man accidentally separated from his parents and adopted by an Australian family at the age of five. Twenty five years later he starts searching for his biological family in India using Google Earth.
It is Australian director Garth Davis' first feature film. He has already garnered international recognition for his commercials and an award-winning mini-series 'Top of the Lake' co-directed with Jane Campion.
Nicole Kidman, who plays the mother, gave Davis her full support: "I've made a lot of films and I've had a really long career, but I love supporting first-time, new directors. And to see Garth just doing his thing and pull it off is just glorious," she said.
'Lion' by Garth Davis will continue to tour the film festival circuit, screening in Zurich and London, before hitting theatres worldwide in November.