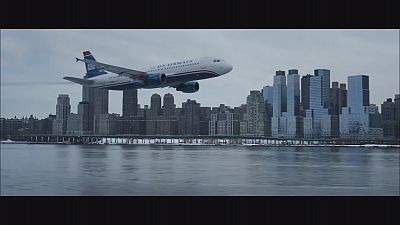 On January 15th, 2009, US Airways pilot Captain Chesley 'Sully' Sullenberger became an overnight hero after successfully landing a plane with 155 people onboard in New York's Hudson River. Both the plane's engines were crippled after being hit by a flock of geese.
Directed and produced by Clint Eastwood, 'Sully' is based on Captain Sullenberger's memoirs and tells of the accident as well as the torment the captain and his family had to endure in the weeks and months following the event.
Playing the lead role, Tom Hanks attended the film's New York premiere, alongside the real-life Captain Sullenberger.
"Like you and I think like everybody, he was a hero, that's it – act one, all over. But what he went through for the rest of the year was a very pressured atmosphere," said Hanks.
"It's otherworldly. It's hard to describe what it is like to see such talented people portray you on screen and speak your words and live your life on film," said the captain. "It was a very emotional experience for my family and I when we saw it for the first time."
At the time of the accident, Captain Sullenberger had logged a total of 19,663 flight hours. Soon after the landing on Hudson River, Sully's life was invaded by reporters and investigators who forced him to put his job, family and reputation on the line.
Himself a keen pilot, Clint Eastwood said the story was perfect movie material: "It was a really dire situation. Once a plane stops running, and you've got a carrier that weighs tons, it's going to start going down quick, so everything has to be done quick. So you're fighting against time and you're fighting to find a place and then, later on, he's fighting to defend himself, defend his action. It was just a lot of good conflict in there."
The movie has opened to positive reviews with particular praise for Hanks, described by one critic as a master of subtle brilliance.
'Sully', one of Clint Eastwood's most personal and successful movies to date according to The New Yorker, is on global release now.