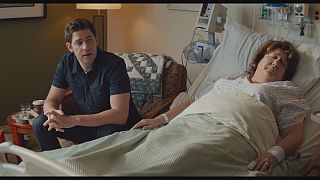 A man returns to his small hometown after learning that his mother has fallen ill and is about to undergo surgery.
Actor John Krasinski directs family drama "The Hollars", his second directorial effort.
Krasinski stars in the film too, and was one of the producers. He feels the magic of this film lies in its realistic approach to life, not having any sad music come up on cue, and familiarity.
"Everybody has seen a whole lot of family dramas, and this is not a necessarily a straight drama, it's very funny too. But for me, I think it was so important to make this movie because these movies aren't being told as much anymore. I think in today's world, it's really important to go back to simpler, stronger storytelling, classic storytelling in things like family," he maintains.
Due to it being a low-budget indie film, there was not much rehearsal time. But that was no problem for the cast.
Emmy-winning Margo Martindale, who plays Krasinski's mother in the movie, explains how she was able to inhabit the role.
"It honestly happened. I don't mean me, I mean we all together became something other than who we were. We became a family and it happened almost immediately. Richard Jenkins felt very much like someone I had been married to many, many years. And these boys felt very much like my sons. It was an unusual experience," she says.
"The Hollars" is out now in the United States.