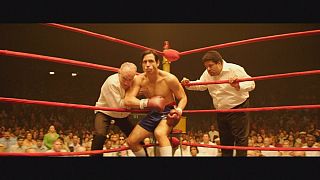 Robert De Niro is back in the ring, or at least in a corner and will fight for the top box office spot with his new boxing drama 'Hands of Stone'.
The movie looks at the life of famed Panamanian fighter Roberto Duran, portrayed by Edgar Ramirez, and his trainer Ray Arcel, played by De Niro. Cuban actress Ana de Armas takes on the role of Duran's wife, Felicidad.
Although Duran is at the film's centre, Ramirez said the sport is just the context.
"Boxing is just the context. It could have been golf, it doesn't matter. It's a human story, a universal story."
Ana De Armas agrees: "It's a beautiful love story. This movie isn't only about boxing, it's a beautiful love story. When people see they'll understand how important Felicidad is in Duran's life."
Singer Usher Raymond plays great Duran's rival, 'Sugar' Ray Leonard and went back to his day job to provide the film's theme track 'Champions' composed with Rubén Blades, Raphael Saadiq and Taura Stinson.
"For every great movie there is a song. For every great moment there's a song. Music is the greatest communicator of emotion and time. And I really hoped to create something that would complement the incredible film that I feel this is. I know the 'Rocky' theme song, I know all of the ones that have worked for boxing. So I wanted to take a different approach. I wanted it be something that celebrated both my Latinos and also too, Americans," said Usher.
'Hands of Stone' will be released in US cinemas this month.