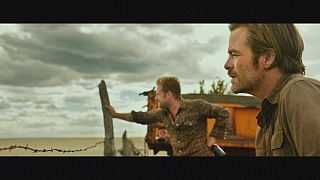 Hell or High Water tells the story of two brothers Toby (Chris Pine), and Tanner (Ben Foster). In a desperate attempt to stop the foreclosure of their family farm and get their own back on the banks, the two embark on a string of bank robberies.
I really like that moral grey area

Film Director
.Variety</a> raves, "Chris Pine, Ben Foster, and <a href="https://twitter.com/TheJeffBridges">TheJeffBridges are all brilliant!" pic.twitter.com/hsmT93mvqn

— Hell or High Water (@HoHWmovie) August 22, 2016
All goes to plan until they find themselves in the sights of a relentless and foul-mouthed Texas Ranger (Jeff Bridges).
The 99% versus the 1%
Actor Chris Pine said that it's a story about the 99 percent fighting economic inequality:
"There's a lot about banking and a lot about the 1 percent and the 99. And our film is definitely about the 99. There's some guns in it and some gun violence. But what I think Taylor and David do so well is that I don't think that this is a morality play. It's not pedantic or didactic. It's not trying to tell you one thing or another. It's just presenting what is happening."
Saw my pal Kevin Rankin in this today. GREAT movie, please go see it. Let's reward good filmmaking!

https://t.co/7euMMFtiQy

— Brian Dietzen (@BrianDietzen) August 15, 2016
A modern day Robin Hood story
"Hell or High Water" is a modern day Robin Hood story with a Western twist. It is set in West Texas where the distinction between honest men and outlaws is blurred and the old collides with the new.
"I really like that moral grey area where you ask those questions and it feels like that is an area of filming that appeals to me. It was very much there in the DNA of the script,"
said Director David Mackenzie.
"We went down that line and I am very proud of the fact a lot of the film is a balancing act of all the different themes and try to keep it all there but to keep the flow going as the same time. It feels like we have done it."
As the brothers plot a final bank heist to complete their plan, a showdown looms.
Veteran actor Jeff Bridges lends this punchy thriller his credibility whilst 'Star Trek's' Chris Pine offers an earnest and mature performance. The film boasts original music by Nick Cave and Warren Ellis.
Hell or High Water was fantastic! The smaller films of 2016 continue to impress. If it's playing near you go see it. pic.twitter.com/BfprdpB3l8

—

JTE

(@JTEmoviethinks) August 21, 2016
"Hell or High Water" will be released in UK cinemas on 9 September.
Upcoming release dates
Ukraine: 25 August 2016
France: 7 September 2016
UK: 9 September 2016
Belgium: 21 September 2016
Netherlands: 20 October 2016
Greece: 1 December 2016