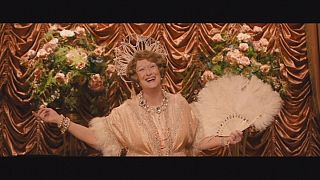 Meryl Streep portrays a real-life socialite and infamously bad singer in her latest movie "Florence Foster Jenkins."Jenkins is a 1940s, New York-heiress pursuing her dream of becoming a great singer. The beautiful voice she hears in her head is a far cry from her own atonal vocals. Her husband and manager (Hugh Grant), is determined to keep the wool over her eyes or in her ears.
"You can only sing badly if you are good singer, and Meryl is a very good singer."

Director
In Stephen Frears's new film, Meryl Street is solidly invested in the folly of Florence Foster Jenkins's dreams. https://t.co/TeHYGyFeRp

— The New Yorker (@NewYorker) August 15, 2016
The art of awful singing
Streep is an accomplished singer but singing badly isn't easy as director Stephen Strears explained:
"You can only sing badly if you are good singer, and Meryl is a very good singer," he said.
Streep gave some insight into the role, revealing:
"I've never played anybody with so much joie de vivre. But… she had real challenges in her life physically, and in terms of her husband's philandering, but she just soldiered on in spite of it all and that was very touching to me. She wasn't in anguish in her life. She was protected from the truth by her husband, and she lived a happy life I think."
"Screwing up" for a living
The film follows Jenkins as she prepares for her first large-scale performance at a sold-out Carnegie Hall. Streep gave some context to the real-life woman behind the character:
"She picked the most difficult arias in the coloratura canon, absolutely. And she screwed it up every time, but she knew them. She knew how they should be done and she really did try her very best. I discovered when listening to her recordings that it wasn't how bad it was, it was how close it came to being almost good and that's what made you want, as an audience, to root for her and then be disappointed."
Florence Foster Jenkins Review – Rating: 7 out of 10 Cast: Meryl Streep as Florence Foster Jenkins Hugh Grant a… https://t.co/cvJ6xdTsEs

— Fire Dancer -}----- (FireAngel_z777z) August 13, 2016
Living your passion at all costs
Determined to deliver her best at the concert, after a 5-year-battle with syphilis, Jenkins is blissfully unaware that what sets her apart is her lack of talent. The film has been described as an ode to following your passion, no matter what people think.
Florence Foster Jenkins (A https://t.co/00u7iDwDQ4 Movie Review) https://t.co/ZeGIwwt5CFpic.twitter.com/SPXnQ4Wavp

— PopEntertainment.com (@PopEntCom) August 13, 2016
"Florence Foster Jenkins" was released in the US on August 12 2016 and in the UK on May 6 2016.