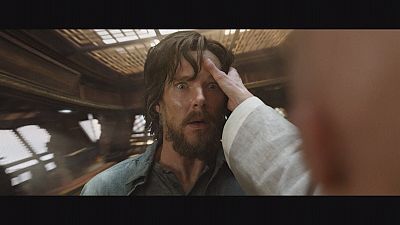 Doctor Strange,' no love at the end of this one, follows the story of neurosurgeon Doctor Stephen Strange who, after a tragic car accident, learns the secrets of a hidden world of mysticism and alternate dimensions.
The impossibilities are endless. #DoctorStrangepic.twitter.com/BUqhTW3gRt

— Doctor Strange (@DrStrange) July 24, 2016
Based in New York City's Greenwich Village, Doctor Strange acts as an intermediary between reality and what lies beyond, demonstrating a talent for metaphysical abilities.
The Origin of Dr. Strange – Strange Tales 115 https://t.co/zSzgbLkxZV#DrStrangepic.twitter.com/yRRKJQtJWe

— Bronze Age Babies (@BronzeAgeBabies) July 17, 2016
Benedict Cumberbatch stars in the screen adaptation of the Marvel Comic: "It's very important for me to bring in a level of humour, that maybe needs a bit more work on in the script, or isn't there in the script, and also wasn't necessarily there in the comics. Yes, he takes himself seriously and we need that for the fall he suffers, which is major before his rise to becoming a superhero, but he's got to take the audience on a ride. You've got to care about the guy – not just because he's having all kinds of trauma inflicted on his mind and body, but also because he's fun, he's good company."
Directed by Scott Derrickson the film also stars Tilda Swinton, Rachel McAdams and Mads Mikkelsen.
The film is on release in October and November.