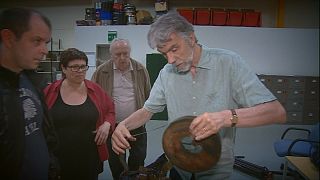 Icelandic fishermen reeled in a mysterious catch earlier this month. When they pulled up their lobster pots from Faxafloi bay, they found a different kettle of fish altogether… a box of old film reels. Feeling a little out of their depth, they handed them over to the Icelandic National Film Museum.
Erlendur Sveinsson, the director of the museum, managed to dry the film negatives, which were in surprisingly good condition.
The hunt
He posted a couple of frames on social media in the hope somebody out there would recognise them.
Sveinsson said:
"I realised immediately that I should be able to extract some frames. So I snapped a few on my camera and put it on our Facebook page. And I was kind of hoping that it would catch someone's eye."
The Breakthrough!
The effort paid off. A Russian man living in Iceland identified the frames and remembered seeing the film when he was a child. It was produced in the Soviet Union in 1969. Entitled Derevenskij Detektiv (The Countryside Cop), it can be found on YouTube.
Causing a stir
The find has created considerable attention. The Russian Embassy sent an inquiry to the film archive in Moscow an and the International Federation of Film Archives had all hands on deck to identify it.
Nobody knows how or why the copy of this film ended up on the bottom of the Atlantic Ocean but the fact that it was caught by Icelandic fishermen is by all standards an amazing coincidence and what's even more surprising is that the film can still be viewed.