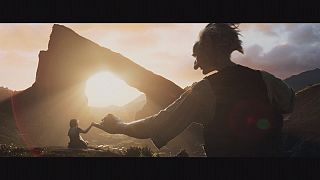 The BFG – based on the 1982 book of the same name by Roald Dahl, – about a young orphan (Ruby Barnhill) taken away by a friendly, big-eared giant (Mark Rylance), marks a return for Steven Spielberg to the magical kind of fable he has largely moved away from in recent years.
As it continues to hit screens worldwide, the movie has already emerged as a flop with little hope of profitability despite strong critical support.
Spielberg's adaptation of the classic children's book carries a steep $140 million price tag and will need to perform strongly in foreign markets to keep the film from being a disaster.
It only managed to pick up $7.6 million on its second weekend, bringing its domestic total to a paltry $38.7 million.
At the London premiere, main actors Ruby Barnhill and Mark Rylance remembered a set full of joy despite a very technical shooting of both live and CGI action.
Of making a CGI film, Barnhill, actress said: "It can be difficult at times. You get more comfortable with it I think after a while. It kind of just becomes like every, an everyday thing but it can be quite difficult and so you have to, but Steven always makes sure we have eye contact, which was really, really helpful I think."
Raise a delumptious glass of frobscottle, #TheBFG is in cinemas TOMORROW! https://t.co/mmYntK2AFihttps://t.co/cCPFBGMsj6

— The

BFG

Movie (@BFGMovie) 21 July 2016
Rylance added: "I think it was very difficult. Ruby doesn't realise because she hasn't made lots of film, but I think a lot of film actresses who've done a lot of films would have found it very difficult. But it was a remarkable.
"Remarkable, required a lot of imagination from her, which she's got a lot of, so we were lucky there."
As actor Rafe Spall explains, it took no one less than Spielberg to adapt Roald Dahl: "I think it's difficult to adapt because with any work of literature, especially that aimed at children, it's so subjective.
"People read books and they create their own pictures, their own ideas, their own visions of things, so I think there's only one man who can realise that and that's Steven Spielberg, who has been the architect of so many of our imaginations and who has dictated what we find magical and wonderful about cinema for so many years."
Despite positive reviews, The BFG could rank as one of the biggest flops of the summer and of Spielberg's career, raising questions about his drawing power after a decade spent making historical dramas such as Lincoln that are geared at older crowds.