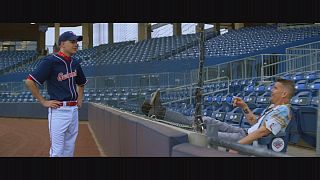 The Phenom is a baseball film that is more than your usual American baseball film.
This sports drama is about a talented young pitcher who struggles to throw strikes. The major league club that he has signed for sends him to a sports psychologist, where memories of his abusive father come to light.
For Paul Giamatti who plays the "mental coach" trying to help the young baseball player, this movie is not only about sport.
"It's also a lot about that American sense of achievement, having to be at the top of your game all the time," says Giamatti. "How do you that? And all those kinds of issues of being sort of A-list."
Ethan Hawke, who plays the abusive father, says: "Really, the reason to do the movie is the quality of the writing. Noah is a wonderful writer. I remember when I first got the script it immediately announces itself as original, and not ordinary fare."
Johnny Simmons plays the lead role of a teenage baseball player whose pitching talents shoot him straight out of high school into the major leagues.
Ultimately the film is about control. And actor Giamatti was fascinated by the mental aspect of performing at such a high level.
"Yeah, that was definitely interesting to me, says Giamatti. "Like I said the idea of somebody with this extraordinary talent, who gets all gummed up for some reason, and in this instance, it's particularly baseball. And that freakish talent that those guys have is fascinating."
"The Phenom" is now on general release in the USA.