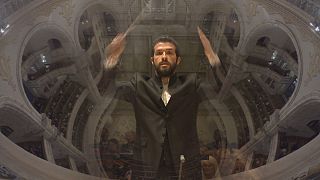 Dresden is a unique venue and has seen many a mesmerising concert. The latest has come from passionate conductor Omer Meir Wellber with the Israel Philharmonic Orchestra performing in the city's splendid reconstructed baroque cathedral, the Frauenkirche, or Church of Our Lady.
I like to play because I think it keeps you connected somehow to the real world and to musicians.
Once a symbol of the destruction of World War II, it was rebuilt using the shattered stones of the ruins.
The concert is part of the prestigious Dresden Music Festival that has dedicated its 39th edition to Israel.
"It was important to me that we contribute to reflection and remembrance musically with this focus on Israel. We look back on this history and we show the cultural ties between our two countries," says the General Director of the Dresdner Musikfestiele Jan Vogler.
History is also important for Wellber, and renewal, too.
"I think that we are today a different generation. In a way the Frauenkirche and also the Israel Philharmonic represent this kind of new generation, opening the doors to bring some new air inside."
On the program: Dimitri Shostakovich's 6th symphony, written in 1939. The Russian composer always felt close to Jewish culture.
"I definitely have a special connection to Shostakovitch. This might be my favourite Shostakovitch symphony," he says.
"He manages to tell a huge story. It starts in a really, very transcendental, spiritual moment and finishes in the circus so this is really in a way Shostakovich but in a way it is very Jewish sense of humour. You know in the worst situations you always have a sense of humour to count on. It's very nice."
On his musical journey the 34-year-old enjoys changing perspectives once in a while. Wellber may be a conductor, a maestro, but the former assistant of one of the greats, Daniel Barenboim, still passionately plays the accordion and piano.
"I like to play because I think it keeps you connected somehow to the real world and to musicians and to music because when you're conducting, you know, you can think that you're the one who makes the music and you're doing a lot but you're not the one who makes the music."
To feel even closer to his musicians Wellber usually conducts without a score.
"I like the fact that you create the music from nothing and then you can watch the people and you can communicate with them and then you can see.. you have to be aware of what's going on during the concert."
"He really has a very spirited temperament. That's actually quite rare. There are many who put on a big show, with lots of gesturing and all that, but he really is like that. He also has excellent ears and hears everything, as he's a composer himself. And he's very imaginative and he is always looking for new creative paths," says Vogler.
Wellber affirms that creativity drives him, but that it is impossible without solid foundations.
"I believe in being spontaneously wise. You have to learn a lot, you have to know everything, you have to rehearse everything and then you have to find the way to be really spontaneous."
Story produced and presented by Katharina Rabillon.