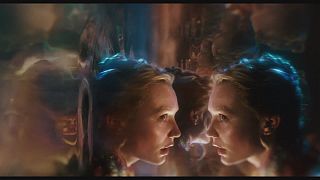 After making the 2010 box office hit 'Alice in Wonderland', director Tim Burton felt he couldn't bring anything new to the sequel.
So he handed over the reins to British director James Bobin for 'Alice Through the Looking Glass', keeping a foot in as executive producer.
"Another person is just another person, so my goal was just to support him (James Bobin) if he needed any advice, if he wanted anything from me and just to help facilitate what he needed to do. Having been through it and going through it myself, I know how important it is just to be able to – with all the influences and the outside entities coming into it – to give the guy some space," says Burton.
The film is a whimsical telling of Alice's second journey into Wonderland.
Bobin, who comes from a comedic background, says he was directly inspired by the spirit of Lewis Caroll's work.
"For me, Lewis Carroll was a man who liked jokes and puns and language, and I feel like, in a way, he's the original surrealist and the original satirist, there's a lot of satire in his work, and that is comedy. If you look at shows like 'Monty Python' in England, that is a show that has direct links to Lewis Carroll as far as I'm concerned. So from my comedic background I wanted to try to bring that element of Lewis Carroll out into the movie."
Mia Wasikowska, who returns in the lead role, says Bobin's directing style is definitely different to Burton's: "They're both really wonderful and yes, they're quite different. Tim articulates things very visually and James likes talking about things more. But James brought a wonderful sense of humour to the film that I think kids can enjoy and adults can enjoy, and also just really pushes the actors to be kind of more emotionally engaged and connected."
The film also sees the return of Helena Bonham Carter as the Red Queen, Anne Hathaway as the White Queen, Johnny Depp as the Mad Hatter, and introduces Sacha Baron Cohen as the villain, Time.
Opening to luke-warm reviews, 'Alice Through the Looking Glass' is now on global release.