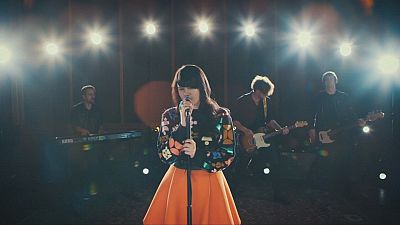 The Eurovision song contest is drawing near and 18-year Jamie-Lee Kriewitz is getting ready to represent Germany in the event, that will be broadcast around the world.
Last year's winner of Germany's The Voice, she was selected to represent her country just weeks after winning the TV talent show.
A fan of Japanese manga style, which is obvious in her outfits, will be performing her chart-topping love song, 'Ghost'.
"My style and my music are quite different. Had I made an album that perfectly reflects my style, then it would have been in Japanese and very upbeat. There is certainly a connection, because I am a very emotional person, I can go from super happy to very sad in minutes. And vice versa. That's just me," she says.
Often compared to former German Eurovision song contest winner Lena Meyer-Landrut, who won in 2010, Jamie-Lee says she hopes it will give her career a boost.
"The thought of being able to tell my children in 40 years time that I represented Germany at the Eurovision Song Contest, that is very cool. Even some superstars don't get such a huge audience. It's a great opportunity for me and might help me make a name for myself internationally."
A big fan of South Korea, Kriewitz has plans to learn Korean and visit the country.
The final of the 61st Eurovision Song Contest will be held in Stockholm on May 14 and will mark the first time the event is broadcast in the US.