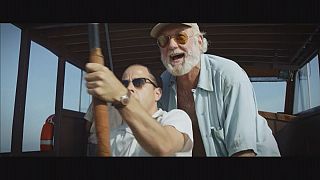 'Papa: Hemingway in Cuba' holds the distinction of being the first Hollywood production to shoot on the island since the 1959 revolution.
The film is based on real-life events.
"The movie is a true story of a young reporter that is befriended by Mary and Ernest Hemingway and actually interacts with him very closely," explains the film's director, Bob Yari. "He becomes almost like a son to them during the last two years of Hemingway's life while he lived in Cuba. And through this young reporter's eyes we really begin to see a very personal, private side of Hemingway, that he didn't really let the public see."
'Papa', as Hemingway was affectionately known, lived in Cuba from 1939 to 1960.
The film was shot on location in 2013 and 2014, even before Havana and Washington announced they were restoring diplomatic ties. But, according to Bob Yari, it's not just politics that posed an obstacle to filming in Cuba.
"Lack of infrastructure, no stages really, equipment… So it made it very challenging. And then the real interesting one was the Cuban work ethic – it's very different to a US production. US productions work 14 to 16 hours a day. The Cuban film community is a passionate, talented, great people, wonderful people, but they are just used to doing things a little slower," he says.
Starring Adrian Sparks as Hemingway, the film has opened to luke-warm reviews in the United States, described by one critic as Hollywood's Havana horror and another as a sincere but formulaic biopic.
'Papa: Hemingway in Cuba' is out now in US theaters.