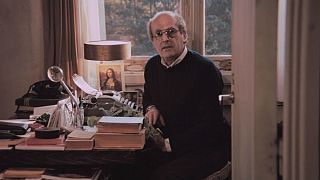 At 73 Manoel Oliveira made a film that was embargoed until after his death
But he died at the ripe old age of 106, and only now is it possible to view Visit or Memories and Confessions, an intimate and moving film
In 1982, Oliveira is forced to sell his house where he had lived since the 1940s. It was a painful moment that caused him to reflect on life, death, the family and cinema
It's fascinating to note that, at the time he made the film, the 73 year old was far from the end. In fact he was at the beginning of the richest period of his career. He had made 15 films but in the end he left about sixty.
The film is equally a testimony to the history of Portugal, of dictatorship and revolution.
Visit or Memories and Confessions is a simple stripped back film, that blends naturalism and fantasy, where we find the freshness and a youthful Manoel Oliveira aged 73
Bon film et à bientôt.