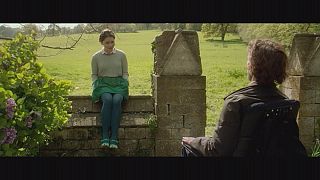 Me Before You is based on the 2012 romantic novel of the same name by English writer Jojo Moyes.
It's directed by British director Thea Sharrock and headed up by Emila Clarke and Sam Claflin, who starred in the Hunger Games and Catching Fire.
"Ultimately, it's a love story, says Clarke. But it's got a particularly sensitive subject material. And, so, it's a love story that you have not heard before. And it's bittersweet, but it's a serious tearjerker.
Live a life worth remembering. #LiveBoldlypic.twitter.com/6nOjNIM9Vn

— Me Before You (@mebeforeyou) April 6, 2016
This is Clarke's fourth feature film. The actress says she was fortunate to land the role. Clarke has been busy with her work in the TV series "Game of Thrones" where she plays Khaleesi, Mother Of Dragons.
However, she still managed to squeeze the shooting of Me Before You in between two takes of the series.
#LiveBoldly this summer as Emilia Clarke & Sam Claflin spread the love with #MeBeforeYou, in cinemas soon. pic.twitter.com/CO0CwosFYR

— Warner Bros. India (@warnerbrosindia) April 16, 2016
"We're lucky with the hiatus, Clarke adds. Me Before You just landed perfectly in that space that I needed to film. But the change of pace for me as an actor was wonderful. Because in Me Before You, it's much closer to who I really am. Like Khaleesi [from the Game of Thrones], that ain't me."
In the film, the 29-year-old actress portrays Louisa Clark, a talented, funny and unambitious young woman who will take care of William, a rich and intelligent young man who became a quadriplegic after a motorbike accident.
Their odd encounter will changes their lives forever.
Me Before You is out in cinemas in the US and UK from June.
ICYMI-Check out XAmbassadors</a>&#39; Erich Lee Gravity Remix of "Unsteady." <a href="https://twitter.com/hashtag/MeBeforeYou?src=hash">#MeBeforeYou</a> <a href="https://twitter.com/Spotify">Spotifyhttps://t.co/zduQSArIW0https://t.co/5d0rxkOvyI

— Me Before You (@mebeforeyou) April 11, 2016