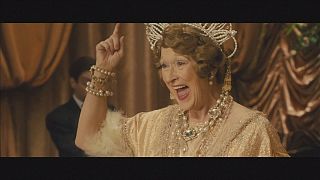 I tried to sing as well as she does
Who was Florence Foster Jenkins?
Florence Foster Jenkins was an American socialite and amateur opera soprano known and ridiculed for her lack of ability.
Her story inspired French director Xavier Giannoli's film, Marguerite, released last year.
Meryl Streep "sublime" as songstress FLORENCEFOSTERJENKINS ★★★★★ https://t.co/jBAegrQrawalanfrightfest</a> <a href="https://twitter.com/patheuk">patheukpic.twitter.com/C6KWykCzpL

— Radio Times Film (@RadioTimesFilm) April 13, 2016
NEW | Meryl Streep Florence Foster Jenkins Premiere in London April 12th pic.twitter.com/0TOTs72Vv2

— Meryl Streep Page © (@MerylStreepPage) April 12, 2016
Now its the turn of British director Stephen Frears to bring the story to the screen. Meryl Streep is hoping the film will hit the top notes:
"Well actually, I tried to sing as well as she does. What was sort of wonderful about her was how close she came to being good, and when it went off, then's when it got sort of glorious and funny."
"But it was the attempt, the sort of yearning for it to be good that is the part that's so joyous for me and was fun to do."
Who else is in the film?
Meryl Streep in #FlorenceFosterJenkins: Film Review https://t.co/z51dCfiRrVpic.twitter.com/GpX0uBYCcC

— Hollywood Reporter (@THR) April 13, 2016
Florence Foster Jenkins London premiere pictures: https://t.co/FxRzJDu91Spic.twitter.com/MAMCdEPbTZ

— Simply Streep (@simplystreep) April 12, 2016
British actor Hugh Grant plays her husband and manager, St Clair Bayfield.
The aristocratic English actor says his character was determined to protect his beloved Florence from the truth.
However, when she decided to give a public concert at Carnegie Hall in 1944, St Clair faced the challenge of convincing reluctant pianist Cosme McMoon (Simon Helberg), as well as audiences, of the grande dame's talents.
"His whole raison d'etre in life is love of her and protecting her. Although, like with all love, there's a kind of selfish element in that as well. Because really without her, he's nothing, he's a failed actor, which is what this guy was. And so he has to cling to this crazy, little world they have, otherwise he's nothing."
"Florence Foster Jenkins" is released in the U.K. on May 6.