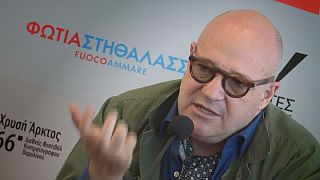 Gianfranco Rosi has been in Greece for the premiere of his latest documentary, 'Fuocoammare' (Fire at sea), which won the Golden Bear at this year's 66th Berlinale. The production won also the Prize of the Ecumenical Jury and Amnesty International Film Prize in Berlin.
.CerieOfficial</a> Have you seen the refugee documentary "Fire at Sea"? <a href="https://t.co/JXsPU3cxW0">https://t.co/JXsPU3cxW0</a> <a href="https://t.co/MPLW4RJbNy">pic.twitter.com/MPLW4RJbNy</a></p>&mdash; Emancipate You (Emancipate_You) 16 March 2016
The documentary captures life on the Italian island of Lampedusa, at the sharp end of the migrant crisis and a gateway to Europe.
One to watch: Rosi's Berlin Fest winning docu-film Fire at Sea, about Europe turning a blind eye to immigration pic.twitter.com/1KDDbQlgxs

— Valerie Waterhouse (@val_in_italy) 6 April 2016
He explained why he made the film:
"I think that a film or a book can't change the destiny of our world. But my hope is that with this film I'll raise awareness about this issue. Above all, I hope to promote the feeling, the idea that all these people are not only numbers, but they are individuals, humans with rights and feelings.
The director spent over a year and a half on the island. He immersed himself in this small fishing community and recorded the lives of the locals, as hundreds of migrants landed on its shores.
Berlin film 'Fire at Sea' shows horror of refugee crossings https://t.co/oUBkBqDzRopic.twitter.com/3OSz87xHtZ

— No More Chains (@NoMore_Chains1) 12 March 2016
There, he met his main characters, Samuele a 12-year-old boy and the community doctor Pietro Bartolo:
"The inhabitants of Lampedusa are fishermen and fishermen have learnt to accept everything that comes from the sea. This is an extraordinary example that shows that we have to learn to be a bit like fishermen. The migrant problem is very complicated. It can't be solved separately by each country and especially the small islands. Lesbos and Lambedusa are two islands, the European bastions on the edge of Europe."
He believes that Europe has failed completely in face of such adversity:
"I believe that during history there are examples that show us that barriers and walls can't resist the power of history. That's why I believe that they will crumble, they will be defeated. I am not afraid of these physical barriers, but of the mental barriers that Europe creates nowadays. Especially the walls built by the contemporary policies of countries. I believe that this will be the end of the common European policy.''
'Fire at Sea' — a testimony to Europe's refugee crisis on film https://t.co/9TWDKB3kacpic.twitter.com/Y0Kt8IkAS9

— Christiane Amanpour (@camanpour) 11 March 2016
The film is out now in Greece and Italy,
and follows on in the UK in June, Germany in July and then heads to Sweden in September.