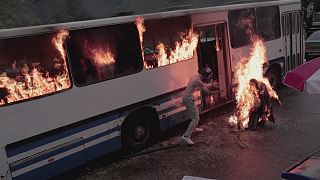 'Hardcore Henry' is a first-of-its-kind – a film entirely seen from the first person perspective, completely shot with Go-Pro cameras.
Everything is seen with the eyes of Henry, a cybernetic man who wakes up in a laboratory run by his wife Estelle. Minutes after regaining consciousness, Henry is being shot at and his wife has been kidnapped by a powerful warlord with an army of mercenaries and a plan for world domination. It seems everyone wants Henry dead. Everyone except for a mysterious British fellow called Jimmy. The action is set in Moscow, where Henry tries to avoid being killed while discovering the truth behind his identity.
The film's Russian director Ilya Naishuller was inspired by two music videos he made, which went viral on the internet.
"It was immensely difficult, everything. I think the most fun was the script because I got to write from the first person perspective which was pretty fresh," he says.
"Meaning when you read the script, it says 'I walked into the room, I see a mercenary, I shoot him, I run away'," explains actor Sharlto Copley, who plays Jimmy.
"But the whole pre-production was complicated because there was so little time to get everything ready," continues Naishuller. "Production was complicated because everybody had to learn their craft. Sharlto had never acted against someone who was looking at him and also sometimes directing him and shaking his hands, and at the same time looking and trying to frame the shot. It's rather unusual. The stunt guys are used to hiding punches and doing camera set-ups which are convenient for the stunt, and here you have this camera."
"Everything Henry does in the film was done for real. There's no green screen, there's CGI enhancement but he really is in that shot right there when the van blows up. That's a guy standing on a van that's moving 50 miles per hour, he's throwing a grenade and there's a proper explosion cannon in there that blows him up, he gets lifted off on a crane, the car goes on a jump rail and he lands on a bike and that's all done practically. It's horrifying because you only have one take because that van is gone and we don't have the budget for another," says Naishuller.
A unique kind of movie, 'Hardcore Henry' has polarised critics. While some welcome this ultra violent video-game style film as a piece of pure entertainment, others have described it as plotless cinema for folks who are too lazy to play their own video games.
The film is on global release now.