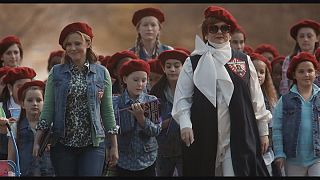 Melissa McCarthy stars as a finance mogul Michelle Darnell in Hollywood comedy 'The Boss'.
After spending time in prison for insider trading, Darnell attempts a comeback by creating a Girl Scout empire with the help of her assistant Claire, played by Kristen Bell.
Besides playing the lead role, McCarthy also served as one of the film's executive producers and screenwriter alongside husband and director Ben Falcone.
"We worked really hard on our script," she said at the film's Los Angeles premiere. "We're constantly changing it, at the end of each night of shooting, we re-evaluate: 'Has anything changed today that may affect the work tomorrow?' I think when you never, ever look away from the script, that's why it works when you improvise. Because the story is so specific and we don't go way off the story. We improvise a tiny little bit."
The film involves a fight scene with the Girl Scouts that took three days to shoot.
"It's a very unique part of our movie, when we have street fights with children," explained Kirsten Bell. "But that was the most fun: how do we make this Girl Scout troupe – which is the Darnell's darlings – to be as sort of raunchy and violent as possible? I think all comedy comes out of things being flipped on their heads so this was perfect."
The film has opened to luke-warm reviews, with one critic saying that in the category of movies to avoid, 'The Boss' gets his vote, while another praises McCarthy's comedy genius as a toxic hybrid of Martha Stewart and Donald Trump on steroids.
'The Boss' is on global release from now.