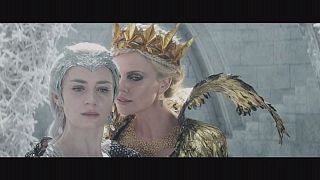 The world of the Grimm Brothers is back to haunt us on the silver screen with the prequel to the 2012 hit 'Snow White and the Huntsman'.
'The Huntsman: Winter's War' sees the return of Chris Hemsworth as the Huntsman and Charlize Theron as the evil Queen Ravenna, with Emily Blunt and Jessica Chastain giving the cast added star power.
A prequel to the original film, it is set long before the events of Snow White and focuses on Theron's Queen Ravenna's descent into evil, as she pursues her dream of staying the fairest in all the land.
"I loved the first one, had a great time. But I wanted to make it lighter in tone and have more fun and a greater sense of humour with the character of the Huntsman," says Chris Hemsworth of his character. "He is very dark and depressive in the first one. So now, we get to go back and see where that originated from and who the woman in his life, the love of his life, who this woman was. It was fun. I loved the script from the first time I read it."
After being betrayed, Ravenna's sister Freya, played by Emily Blunt, has retreated to a northern kingdom where she has raised an army of huntsmen as her protectors. Gifted with the ability to freeze her enemies to ice, Freya teaches her young soldiers to never fall in love. But one day, the rule is broken.
"I think it's the first really kind of arch-villainous part I've played and I loved it because she's such a cool villain," says Emily Blunt of her character. "You meet the origin of the character, this very normal girl who wants simple things in life, to be in love and to have a child, and she goes through something so horrific that she does a complete 180 and becomes this hardened, abhorrent ice queen."
Despited its star-studded cast, the film has earned luke-warm reviews, with some describing it as an entertaining couple of hours that will thrill magic-lovers while another says the added star power of Jessica Chastain and Emily Blunt isn't enough to enliven this dour prequel.
'The Huntsman: Winter's War' is out worldwide this month.