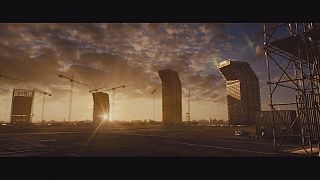 Tom Hiddleston, Sienna Miller and Luke Evans star in a cinematic adaptation of J.G. Ballard's novel 'High Rise.'
Take a trip into JG Ballard's 1970s britishlibrary</a> Sun March 13 <a href="https://t.co/bIgQfTspBL">https://t.co/bIgQfTspBL</a> <a href="https://t.co/Ed3xLyu6VX">pic.twitter.com/Ed3xLyu6VX</a></p>&mdash; High-Rise (HighRise_movie) March 6, 2016
The dystopian thriller dissects the residents of a luxury high-rise apartment block. The rich occupy the upper floors while the poor, cut off from society, live below.
Hiddleston pays the part of Dr Laing: "I think there's something in the way our society is structured, which will always be relevant until it changes, which is that people feel a justified anger about being asked to stay in their lane. They are born into a position in society and they're expected to stay there and the analogy is that you live on a particular floor of the high-rise and you're expected to stay on that floor."
KermodeMovie</a> <a href="https://twitter.com/ObsNewReview">ObsNewReviewmr_wheatley</a> heres my <a href="https://twitter.com/HighRise_movie">HighRise_movie alternative/fan poster hope you like #HighRisepic.twitter.com/PD76VUTihY

— Needle (@needledesign) March 6, 2016
Laing meets a filmmaker determined to document class injustices.
The result is the regimented social strata falls apart and the inhabitants become tribal and violent.
Esse filme vai ser muito bom! \o/ #HighRise#SciFi#TomHiddlestonhttps://t.co/OTToXH1fTVpic.twitter.com/vlX4jwaMuU

— Dany Costa (@DanyCosta_RJ) March 6, 2016
Welcome to twhiddleston</a> in <a href="https://twitter.com/HighRise_movie">HighRise_movie! Check out our ProducerPreview next Sat, 6pm :)Xhttps://t.co/kbaNz5Q6v6pic.twitter.com/2P3psZ3Iml

— Arts Picturehouse (@CamPicturehouse) March 6, 2016
The cast believe Ballard's observations are relevant and ubiquitous.
First Sienna Miller:"I could see bits of myself in almost all of the characters there, and also it's very thought-provoking in terms of how you think you would react and I think you can't help but watch this film and think, 'what would I do?'. That feeling of claustrophobia, I mean I could relate to that."
Luke Evans plays the filmmaker: "Even though the book is 30-years-old and the story was written by someone in the mid-70s, even placing the film in the late-70s it's still reminiscent of what we experience and observe throughout the world today. Human nature and society and the class system."
mr_wheatley</a> <a href="https://twitter.com/chaptertweets">chaptertweets I'll clean up a bit before I get there HighRise_movie</a> <a href="https://twitter.com/hashtag/mynameisrichardwilder?src=hash">#mynameisrichardwilder</a> <a href="https://t.co/bGrtwlaa2a">pic.twitter.com/bGrtwlaa2a</a></p>&mdash; Luke Evans (TheRealLukevans) March 10, 2016
'High-Rise' hits U.K. cinemas on March 18th.