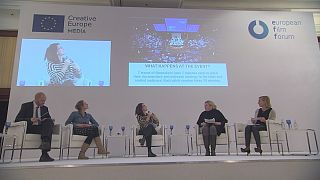 Designed to boost Europe's film and audiovisual industries while protecting its cultural diversity, the European Union's MEDIA Programme is marking its 25 anniversary.
Since 2014, MEDIA has become a sub-programme of Creative Europe, whose role is to boost the competitiveness of Europe's cultural and creative sectors.
While covering the Berlin Film Festival this year, euronews' Wolfgang Spindler spoke to the head of unit in charge of the Creative Europe MEDIA programme, Lucía Recalde.
"What we do is to support projects that are in pre-production phase, development phase and we also support projects in the post-production phase, so that they can circulate and travel across the European Union. MEDIA is providing a platform, a structured platform, for film producers, film distributors to really facilitate, not only the creation and the production of the works, but also the distribution and the exhibition across different theaters in Europe," said Lucía Recalde.
The Berlin Film Festival hosts a number of MEDIA-backed projects including the Shooting Stars Award, aimed at promoting young acting talents from around Europe, as well as the Berlinale Talents, a creative platform for emerging filmmakers.
The MEDIA programme also supports most of the major markets and co-production forums in Europe, for instance at the Berlinale and Cannes Film Festival, as well as the Cartoon Movie, Europe's largest co-production platform for animation films.
The programme is having to adapt to a fast-changing market, no longer dominated by cinema and television.
"One of the challenges of the MEDIA Program is really to support – through new promotions, through new distribution channels, taking advantage of all the new digital means – to makes these works better known, not only in Europe, but also beyond Europe," explained Lucía Recalde. "The audiovisual industry needs to find new ways to connect with audiences, younger audiences, who are watching a lot of European content, but very differently, via tablets and VOD platforms, and that's an important challenge: how to connect with these audiences in a very different way."