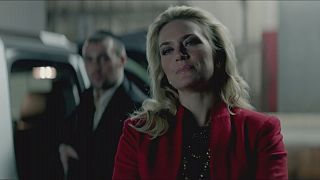 Directed by Australian John Hillcoat, who gave us the haunting post-apocalyptic 'The Road' in 2009, 'Triple 9' is a crime thriller set in the underworld of the American city of Atlanta.
The story follows a gang of criminals and corrupt cops who plan the murder of a police officer in order to pull off a heist across town.
The film stars an A-list cast including Aaron Paul, Chiwetel Ejiofor, Anthony MacKie and Casey Affleck.
"You know, I think it's one of those movies that has a long tradition in Hollywood," said Affleck at the film's Los Angeles premiere. "Like 'The French Connection', it's a thriller, a good old-fashioned thriller, cops-and-robbers movie. And if it's done well, it's always a lot of fun."
"It's not just about action," added Anthony Mackie. "It's more about acting and story. So, there's not a dull moment in this movie. And it's got Kate Winslet, so beat that if you can."
The movie is a first for Winslet. The Oscar-winning actress takes on the role of a villain, a Russian-Israeli crime boss who runs the business while her husband is in jail. It was a role she said felt very out of her comfort zone.
"She's a nasty piece of work," said Winslet. "She's a master manipulator and I loved the fact that she's one of very few women in the film and yet she's controlling everything and everyone and she has such power over all of those men, and I've got to be honest, I got quite a kick out of that, too."
Crime thriller 'Triple 9' by John Hillcoat is on global release.