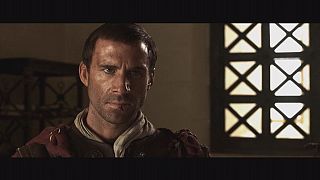 Joseph Fiennes stars in the latest dramatisation centred on the resurrection of Christ.
'Risen', by US director Kevin Reynolds, sees the British actor play Clavius – a Roman soldier tasked with finding Jesus' body in order to stop people believing he has returned.
Fiennes explained the story: "Clavius has overseen the crucifixion and now he has to go and find the body to prove everybody wrong," explains Fiennes. "The ticking clock is we have Emperor Tiberius coming and so Pontius Pilate is putting a lot of pressure on Clavius to have this mess sorted out, so everything is calm. Clavius gets caught and sucked into a great murder mystery and, as he continues to investigate, he finds that there are no answers to this riddle, he doesn't find the body. And what we have is a journey of a man whose conditioning, his roman military conditioning, is challenged."
Argentinian actress Maria Botto, who plays Mary Magdalene, says her's is a powerful character: "What I learned about was the generosity of a woman who can give her life for what she believes in and for the people she loves. She will fight for what she believes."
The film has opened to mixed reviews, with one critic welcoming this classical biblical epic told in an original way while another called it not very inspirational.
Starring Joseph Fiennes, Tom Felton and Peter Firth, 'Risen' is out now.