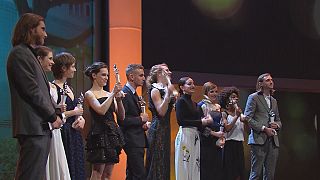 Europe's most talented young actors were invited to tread the red carpet of the Berlin Film Festival.
It was part of Shooting Stars, a unique pan-European initiative which puts a spotlight on Europe's best young actors.
The event was organised by European Film Promotion organisation, with the support of the EU's Creative Europe-media Programme.
It helps to put emerging talent on the international film market. These budding stars were selected by a jury of industry experts.
Karin Dix, Project manager, explains the concept: "A part of the Shooting Star event is International Casting Directors Network, an organization of 74 casting directors, that means people who are looking for actors to cast for movies.
"These directors come from 24 countries. Among them are casting agents from Paramount Studios, who casts for the James Bond movies and a Dane who is casting for all the Dogma movies."
This year's shooting stars are Jella Haase from Germany, Spain's Maria Valverde, Kacey Mottet Klein from Switzerland, Sara Serraiocco from Italy, Holland's Reinout Scholten van Aschat, Martha Canga-Antonio from Belgium, Atli Óscar Fjalarsson from Iceland, Daphnné Patakia from Greece, France's Lou de Laâge and the Croat Tihana Lazovic.
"In the end we make an evaluation of the results and we can say: due to their participation at this event, almost all the actors will find a role in international film productions," Dix added.
The young guns received the much sought-after Shooting Stars Award in honour of their artistic work on the stage of the Berlinale Festival Palast.
This year the award was handed over by Daniel Brühl who was himself invited to Berlin in 2003 as a Shooting Star.
Previous Shooting Stars winners include Rachel Weisz in 1998 and Daniel Craig in 2000.