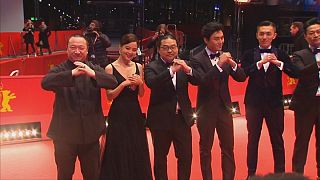 'Crosscurrent' by Chinese director Yang Chao finally gets the red carpet treatment in Berlin.
The film was shot four- years ago and the editing process took two-years.
'Crosscurrent' ('Chang Jiang Tu'): Berlin Review
A journey up China's Yangtze River becom… https://t.co/3N35tSYFqupic.twitter.com/fzbLs2bt2u

— Karthick Anbalagan (@karthick0587) February 16, 2016
The magic realism film is a love story set on the Yangtze River.
Chinese film at Berlin finds poetry in motion of Yangtze River: BERLIN (Reuters) – Director … https://t.co/7RxI3jPQAY via@BammyOfficial

— •HP•|BAMIKOLE| (@BammyOfficial) February 15, 2016
The director explained the idea behind the movie: "Firstly there's a rich classical tradition of Chinese poetry. And successive Chinese Poets from the Tang Dynasty through the other dynasties to the present day have used a variety of approaches to describe, to talk about the Yangtze river.
What I feel I've been doing is extending that poetry by the means of cinematography."
Berlin 2016: Crosscurrent review https://t.co/NzcDDeeVh9pic.twitter.com/IHxNOwNXY0

— Movie Reviews (@movierev_rr) February 16, 2016
During the voyage, the hero reads from a book of poetry that is hidden away in a special compartment on the boat, while the screen flashes verses from famous poets of Chinese history.
The captain is also in pursuit of a beautiful woman who is both elusive and obtainable.
'Crosscurrent' is in competition for the Golden Bear at the Berlin Film Festival.
synopsis:
http://www.berlinale.de/en/programm/berlinale_programm/datenblatt.php?film_id=201614160#tab=video25
http://www.hollywoodreporter.com/review/crosscurrent-chang-jiang-tu-berlin-865320
http://www.cine-vue.com/2016/02/berlin-2016-crosscurrent-review.html
Julianne Moore and Greta Gerwig are in Berlin to promote the romantic comedy 'Maggie's Plan' written and directed by Rebecca Miller.
Berlin: Women Ruled 'Maggie's Plan' Production #filmhttps://t.co/FsVdDcM7uspic.twitter.com/0H4P7vwDb9

— Film News & Gossip (@FilmNewser) February 15, 2016
Here she is: #JulianneMoore at the premiere of MAGGIE`S PLAN. #Berlinale2016#BerlinaleMomentspic.twitter.com/iE3DGsa9yp

— Berlinale (@berlinale) February 15, 2016
Julianne Moore used to live in Germany and was delighted to back in the country for the Berlinale
"Hi, I love Berlin, what an amazing festival. I love Germany. I lived in Frankfurt as a teenager and that's why I speak a little German."
He co-star Greta Gerwig spoke of her admiration for Moore:
"She's a master, she's everything. She's one of the best actresses I've ever seen work and she has such utter control and also fearlessness at the same time. "
Gerwig is a 30-something who decides she wants to have a baby and, with no relationship on the horizon, she takes matters into her own hands.
synopsis:https://www.berlinale.de/en/programm/berlinale_programm/datenblatt.php?film_id=201606901#tab=video25
more info:
http://variety.com/2016/film/festivals/berlin-women-ruled-maggies-plan-production-1201706462/