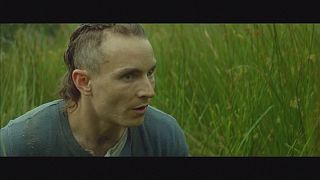 Debut feature film director Stephen Fingleton has brought his BAFTA-nominated thriller The Survivalist, starring Martin McCann and Mia Goth, to the big screen.
A loner, played by Belfast-born McCann, is making his own way in the wilderness when two women (Goth's character Milja and her mother played by veteran Irish actress Olwen Fouere) stumble across his smallholding.
The dystopian story is set in the near future when society as we know it has collapsed and everyone must fend for themselves.
Director Stephen Fingleton says: "Our civilisation is based on a foundation of resources that can't be replenished and I began to imagine what I would try and do to try and survive in such circumstances and so it came from that fever dream of imagining who I would become."
Shot in Northern Ireland, the movie was screened at the Tribeca Film Festival and has been nominated for Outstanding Debut at the 2016 BAFTAs.
Despite a low budget and simple special effects, the director tries to evoke a sense of the end of the world by the film's stark atmosphere and nuanced acting.
"The interesting thing about working on low budget is you don't necessarily have a long time to rehearse so we had to be guided as a director and as cast by what the characters would really do," Fingleton adds.
"And so we were trying to find out the truth of the situation and the truth of what their characters would do."
When the farm comes under attack from outsiders, the trio are forced to work together and loyalties are tested when food runs short.
And as his feelings for Milja grow, her mother schemes to take control of the farm.
The Survivalist" opens in cinemas across the UK on February 12.