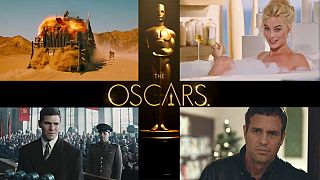 Welcome to our rendezvous with the Oscars.
The race is nearing the end but what are the films in poll position?
Spotlight, by Tom McCarthy has six nominations including best film and best director.
At the turn of the century American newspaper The Boston Glove gave a masterful lesson in investigative journalism in exposing paedophile priests in the Archdiocese of Boston.
What started out as an investigation into one priest accused of molesting dozens of boys unravelled into a conspiracy of lawyers and government officials who helped the church hide paedophile and deny justice to the victims
Mark Rufallo and Rachel McAdams are up for best supporting actor awards in a film that shook the Cathollc church to its core.
Hollywood is skillful at moralising and with the Big Short it moves its target from paedophelia to Wall Street.
The film, directed by Adam McKay, targets the world of high finance and has five Oscar nominations.
It has an all-star cast with Brad Pitt, Christian Bale, Ryan Gosling and Steve Carell.
Four outsiders anticipate the explosion of the financial bubble in the US housing market destined to burst a few years later, with disastrous effects.
The quartet amass a fortune while exposing the corruption of large financial institutions.
In Bridge of Spies, director Steven Spielberg went through great pains to make this beautifully shot film. But even he cannot rescue a vehicle that was nominated for six awards from its banality.
Tom Hanks fails to excite in his role as a Brooklyn lawyer sent to negotiate the release of an American spy plane pilot shot down over the USSR during the Cold War.
Mad Max Fury Road sees the return of director George Miller to the franchise. It's not your typical Oscar movie but it gained 10 nominations and was well received by critics and moviegoers.
alike.
In the flim Max joins forces with Imperator Furiosa as they flee from Immortan Joe and his band of crazy followers.
Set in the apocalyptic future, the film is a burst of fireworks from the word go and doesn't let up.
Kamikaze mysticism, Valhalla and a heavy metal folklore are among the elements in the decoration of Miller's film.
The race to the Oscars dominates the star system every year. Stay tuned to Euronews on TV and on our website for all the latest updates. See you soon.