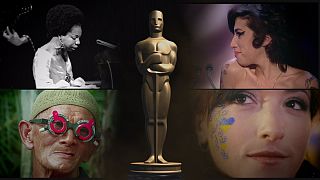 As the final countdown for the Oscars has already started, we take a closer look at the documentaries nominated this year for the Academy Awards.
"Amy" is the main favourite, a biopic about Amy Winehouse.
The late British singer was a six-time Grammy winner who died at the age of 27 from substance abuse.
Directed by Asil Kapadia, it uses home videos, photos, reports and performances to show Winehouse's path to a career as an acclaimed singer.
The film is narrated by the singer herself as well as by friends, family and colleagues and premiered in Europe at the Cannes Film Festival last year.
Joshua Oppenheimer is nominated for his second Academy Award, this time for the Look of Silence, about a 1960's massacre in Indonesia which is a follow-up to the Texas-born filmmaker's 2012 film The Act of Killing.
The Look of Silence has garnered some of the most prestigious industry awards including the Grand Jury Prize at the 71st Venice International Film Festival.
Another film in the running is US director Matthew Heineman's Cartel Land, an on-the-ground look at two modern-day vigilante groups and their shared enemy – the violent and murderous Mexican drug cartels.
The groups are on opposite sides of the US Mexican border led by men who have a shared belief that they are fighting for their country.
In Arizona, military veteran Tim "Nailer" Foley leads a paramilitary group called Arizona Border Recon, while in the Mexican state of Michoacán, Dr. Jose Mireles organises the citizens rising up against the Knights Templar cartel.
The film was produced by Kathryn Bigelow.
Rounding out the nominees is Winter on Fire: Ukraine's Fight For Freedom, directed by Evgeny Afineevsky, and charts the Ukrainian revolution.
During 2013 and 2014 protesters began calling for stronger ties to the European Union and fought back against government military forces to oppose the then President Viktor Yanukovych's efforts to ally with Russia.