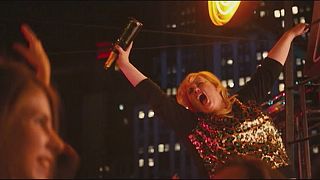 The Big Apple is full of lonely hearts seeking the right match, and what Robin,Alice, Meg and David share is learning 'how to be single' in a modern world with new definitions of love.
It's a comedy, of course, but we're not taking all this stuff lightly. - Alison Brie, actress
Based on the novel by Liz Tuccillo, the film stars Aussie comedian Rebel Wilson, Dakota Johnson and Damon Wayans Jr. Tuccillo also wrote the famous self-help book 'He's Just Not That Into You' and worked on HBO's Sex and the City.
Self-proclaimed 'eternally single' actress Rebel Wilson talks about her freedom:
"I think I like being single a little bit too much because I am eternally single, but I get to live this lifestyle where I get to do whatever the hell I want to do, like whenever I want to do it; travel all the time, just have fun and it's great. One day, if I find the right person, I will be ready to settle down. But until then…"
The characters in the movie are learning how – and how not – to be single, and actress Alison Brie's character Lucy makes a lot of bad dating choices.
At the New York premiere Brie said the film, produced by Drew Barrymore, is more than a simple comedy:
"It was a great cast, it was so fun to work with so many funny women and also to play such well-rounded characters. It's a comedy, of course, but we're not taking all this stuff lightly. I feel like there's a lot of great emotional through lines for the characters and that is what I responded to a lot when I read it."
Perhaps the perfect anti-Valentine's Day movie, How to be Single opens in the UK on February 19 and in France early March.