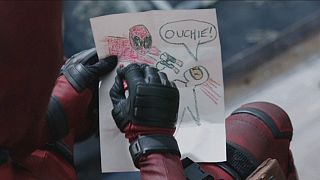 Based upon Marvel Comics' most unconventional anti-hero, 'Deadpool' tells the story of former Special Forces agent turned mercenary Wade Wilson. After being subjected to a rogue experiment, he is left disfigured but with accelerated healing powers. Armed with his new abilities and a dark sense of humour, Wilson adopts the alter ego Deadpool and goes on a mission to track down the man who nearly destroyed his life.
Deadpool is played by Canadian actor Ryan Reynolds, who already portrayed the character in the X-Men spin-off 'X-Men Origins: Wolverine'.
"Look, we're standing at the intersection of a superhero apocalypse. We have all these movies coming along and they're all very, very serious and, you know, they're all very gritty and dark, and Deadpool's kind of the opposite of that. He takes nothing seriously, and I think that's fun — it's a nice refreshing change of pace, you know. You still have all the intense action, you have a movie that deals with themes that are a little bit more adult than necessarily some of the recent Marvel movies that have come along," says Reynolds.
British actor Ed Skrein, famous for his lead role in French action thriller 'The Transporter Refueled', plays Ajax, the villain responsible for the failed experiment. Asked whether it was hard to keep a straight face on set with Reynolds cracking jokes and improvising, he said: "Not really when you're on camera because you're in character. But as soon as I would turn my back to walk off I'd be like (puts fist in mouth), it would be so difficult to not laugh out loud and you'd come off, relax and he'd still be going on and you're trying not to laugh and then they say cut and everyone's laughing their heads off."
'Deadpool' is the feature debut of visual effects artist Tim Miller, who was creative director for the opening sequences of films like 'The Girl with the Dragon Tattoo' and 'Thor: The Dark World'. Filled with dark humour, violence and offensive language, it has an 'R' rating in the US and a 15 certificate in the UK. The film is on worldwide release this month.