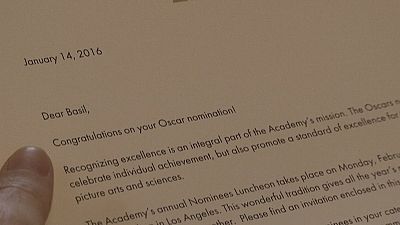 Best Live Action Short Film is one of those Oscar categories which offers new talents a chance.
Among this year's five contenders is the short drama 'Shok', Kosovo's first ever Academy Award nomination. 'Shok' is based on a true story which took place during the conflict between Kosovo and Serbia in the late Nineties, where the friendship of two boys is tested to its limits in a battle for survival.
British director Jamie Donoghue says the idea for the project came about when he found himself stranded in Kosovo five years ago: "In 2010 I came here (to Kosovo) to visit for three days and the Icelandic volcano erupted, and I couldn't get a flight out the country for five weeks. In that time I met some of the most incredible people I've ever met, made some amazing friends, and began to learn about the war and what happened here."
Also vying for Best Live Action Short Film is 'Ave Maria', a joint Palestinian, German and French venture. Shot in Israel and the West Bank, it's a comedy about a group of five nuns whose quiet lives in the West Bank are disrupted when a group of Jewish settlers crash their car outside their isolated convent.
It's British-Palestinian director Basil Khalil's first Oscar nomination. He says his goal was to make an unconventional movie about the interaction between religious communities: "In the Middle East, people are born into a religion, you don't choose it. Like I was born in the state of Israel as a Palestinian Christian, I didn't choose that. And so from the moment you're born you're already set in a way that you have to abide by and you are either one of them, or one of them, and then you instantly have got enemies without even choosing them and so this is what the film's about."
Khalil's humorous take on an otherwise bleak situation has already won him critical praise on the festival circuit, including in Cannes where it was also nominated for Best Short.
'Ave Maria' and 'Shok' will be up against 'Day One' by US director Henry Hughes, German short 'Everything Will be Okay' by Patrick Vollrath and 'Stutterer' by Irish writer and director Benjamin Cleary.