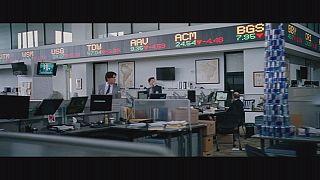 Adapted from Michael Lewis' bestselling book of the same name, 'The Big Short' traces the roots of the global market collapse seen through the eyes of those who saw it coming.
With a stellar cast including Christian Bale, Brad Pitt, Ryan Gosling and Steve Carell, the film is a far cry from Adam McKay's previous work with partner Will Ferrell on comedies like 'Anchorman' and 'Step Brothers'.
"I think a lot of people were like 'What are you doing? Why are you spending your time doing this script?' There are certainly other bigger projects out there that are more in my wheel house but you know, the people that know me know that I'm passionate about these kinds of subjects so they let me take a crack at the script. The key was really when the script got sent out to all the actors and Christian Bale and Gosling and Pitt and Carell read it and they all came back pretty quickly with yeses, that's what put the whole thing into hyperdrive," explains Adam McKay.
'The Big Short' cuts through the financial jargon and offers a hyperreal approach of events leading up to the 2007 financial crisis. It also shows Wall Street for what it really is according to Ryan Gosling: "The best part was that McKay really wanted to deglamourize the Wall Street world and that was fun because every time I've seen it depicted in a film that I can think of, it's very slick, so Adam really cut the legs out of that image."
"It's a wonderful thing that Adam has done, isn't it?," adds Christian Bale, who plays Dr. Michael Burry, the shoeless, glass-eyed hedge fund manager who's among the first to predict the crash."He breaks the whole myth that people like yourself and me can't possibly understand it. It's not that tricky to understand when you put a human face to it and you cut the crap with all the vernacular and the codes that Wall Street uses in order to purposely confuse you, you know."
While it failed to pick up any Golden Globes, 'The Big Short' opened to mostly critical and public acclaim with reviewers describing it as a spinach smoothie skillfully disguised as junk food. It also earned director Adam McKay critical praise for his take on the financial crisis.
'The Big Short' is on global release now.