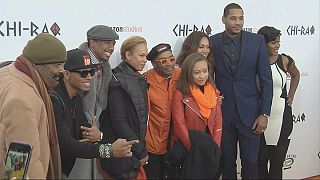 'Chi-raq' is the latest film by Spike Lee, set in Chicago the film satires the gang violence and high crime rates on the city's south side.

Angry, hilarious, and uniformly moving, Spike Lee's CHI-RAQ is mandatory viewing: https://t.co/LpSHR0043epic.twitter.com/8YbTZEX1dr

— Tribeca (@Tribeca) December 8, 2015
The term 'Chi-raq' is an endonym used by south siders to describe their violent neighbourhoods.

'Chi-Raq'​ Scratches At Black America's Generation Gap In A Time Of Protest https://t.co/hGPrZZ9wBk#UniteBluepic.twitter.com/a8uXx0Hb9Z

— The Progressive Mind (@Libertea2012) December 6, 2015
In the film women in the area withdraw sexual favours until the violence ends.
Spike Lee sees the movie as a modern American tale: "We think that we made a film that's about contemporary America and deals with issues in America today that affects all Americans. We have to come out from under the tyranny of the NRA and the gun manufacturers. That's what it comes down to. And not vote politicians into office that accept money from both of them."
The movie hit the screens soon after the release of
a controversial police video which shows 17-year-old "Laquan McDonald'':https://en.wikipedia.org/wiki/Shooting_of_Laquan_McDonald being shot 16 times by Chicago police officer Jason Van Dyke.
The black teenager, armed with a knife was fleeing the police at the time.
The video was suppressed until after the re-election of Mayor
Rahm Emanuel.

If Rahm Emanuel can covered up a murder, what else is he covering up at City Hall #LaquanMcDonaldpic.twitter.com/8pLou9kQBF

— ChicagoElection2019 (@Vote4Mayor2019) December 14, 2015
Once the video was released Emanuel sacked Chicago's police superintendent.

Protesters demand Rahm Emanuel's resignation outside Mayor's Office, City Hall #LaquanMcDonaldpic.twitter.com/SygBCXX8ZA

— Brian Cassella (@briancassella) December 7, 2015
John Cusack condemned the violence and politicking: "I think that 2200 people being shot a year, and 500 murders, it's just not acceptable, and obviously, it's very tragic that information was suppressed for an election cycle."
.@tnyfrontrow reviews @spikelee's necessary, overwhelming "Chi-Raq": https://t.co/0F3sD7gGwTpic.twitter.com/ORDxmyHXkE

— The New Yorker (@NewYorker) December 13, 2015
After the first screening in New York Spike Lee led a demo in Times Square to combat gun violence.

.@SpikeLee's #ChiRaq was a Box Office Success: https://t.co/iYBqwuxHgqpic.twitter.com/G0IhukVwgz

— BET (@BET) December 8, 2015
The film is out is the US.