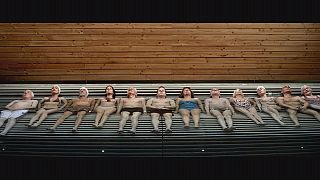 Michael Caine along with Harvey Keitel star in the Italian comedy-drama "Youth" written and directed by Paolo Sorrentino.
It is one of the movies – the themes of which include the eternal struggle between age and youth, life and death – which leads this year's European Film Award nominations.
The Sorrentino film has five nominations Best European Film, Director, Screenwriter, Best Actor Michael Caine and Actress Rachel Weisz.
The Lobster
A darkly comic fantasy also landed five nominations. Yorgos Lanthimos' "The Lobster" is set in a dystopian future. Single people are taken to a hotel where in the space of 45 days they have to find a partner. Failure can include reincarnation as an animal.
The movie's four nominations include for Best Film, Director, Actor Colin Farrell. It scooped the Jury Prize in Cannes.
A Pigeon sat on a branch reflecting on Existence
"A Pigeon sat on a branch reflecting on Existence" is a clunky title for a Swedish production which is up for four awards, Best European Film and Best European Comedy, Best director and Best screenwriter.
It focuses on two travelling salesmen, Sam and Jonathan peddling novelty items. Their actions capture the beauty of single moments, the pettiness of others, the humour and tragedy that is within us, life's grandeur as well as the frailty of humanity.
The film was awarded the Golden Lion for the Best Film at the Venice Festival and was selected for the Swedish entry for Best Foreign Language Film at next year's Oscars.
Mustang
Best Film and Best European Discovery are the nominations for "Mustang". It is Turkish director's Deniz Gamze Erguven's first movie and tells the story of Lale and her four sisters. When they innocently play with four boys on the way home from school it triggers a scandal and alters their lives.
The family home is transformed into a prison, lessons on homemaking replace school and marriages start to be arranged.
"Mustang" won the European Parliament's Lux film prize. It will represent France as the Best Foreign Language Film at the Oscars.
Victoria
"Victoria" by German actor and film maker Sebastian Schipper is up for three nominations and centres on Victoria played by Laia Costa.
Her character meets four young guys on a night out in Berlin. She joins the group and becomes their driver for a bank heist. As dawn breaks they all meet their destiny.
The film was shot in a single take and is up for Best Film and Best Director while Spanish actress Laia Costa has been nominated as Best Actress.
Rams
In stark contrast is the Icelandic film drama Rams by Grimur Hakonarson. It is also up for Best Film.
Set in the rural countryside it tells the story of two brothers, both sheep breeders, Gummi and Kiddi who have to bury a four-decade long feud to team up and fight a lethal disease which threatens their valley.
It will go forward as Iceland's representative in the race for the Best Foreign Language Film at the Oscars.
The winner of the European Film Awards will be announced on December 12 in Berlin.
"European Film Awards": https://www.europeanfilmacademy.org/European-Film-Awards.36.0.html