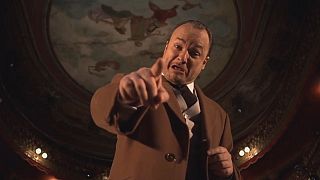 "Les Cowboys" is a drama from France but there is not a gunslinger in sight. The French film tops our list of European films that are hitting the big screen somewhere near you.
The theme resonates with actual events of our times. An Old-West enthusiast embarks on a 16-year odyssey to track down his daughter who has run away and converted to Islam. It is screenwriter-turned-director Thomas Bidegian's inventive update on The Searchers.
Happiness is a complex system – do we need a movie to remind us of that? If you do then the Italian film "La felicita e un sistema complesso" is just for you.
The drama by Gianni Zanasi tells the story of Enrico Giusti whose job is to approach irresponsible managers who risk ruining their companies and convince them to leave before taking the company into bankruptcy.
He takes on a case where two orphaned teenagers become directors of a nationally-important industrial group. It is to change his life forever.
La felicita e un sistema complesso
"Flow" is our third choice and is a rather strange drama-comedy from Spain which defies conventions and has been described as " a film of inner action". Still with it?
A few more details. Walter Mann is rising theatre actor who is struggling with the blurred lines between fantasy and reality. He takes centre stage in a play that is his own life.
As he rehearses for his new play he imagines himself at times as Vito Corleone in "The Godfather" and portrays a rather convincing Marlon Brando.
If you like your cars and in particular Le Mans then there is not much more to be said about our final choice – except of course Steve McQueen.
In this documentary you'll enjoy plenty of archive footage along with interviews which present a unique inside look at the production of what went really went down in that iconic movie. And amongst it is McQueen talking about his love of racing and film making.