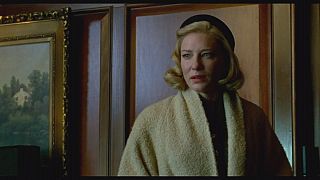 Cate Blanchett plays alongside Rooney Mara in director Todd Haynes'
steamy lesbian love flic 'Carol' based on the controversial novel by Partricia Highsmith.
The movie, has been a critical smash since it premiered at the Cannes Film Festival in May.
Cate Blanchett was immediately interested in the project: "I loved the screenplay as soon as I read it. I love Patricia Highsmith's writing, so it seemed a no-brainer to me. But I knew it was a delicate film that couldn't… there was no point in just making it because the territory was really special and so when Todd came on board it then became a film that I thought would be really exciting."

#Carol: a rare movie that escapes the male gaze https://t.co/WzGnFAOmvMpic.twitter.com/2EiH1W575W

— Vulture (@vulture) November 19, 2015
In the film, Carol and Therese are irresistibly drawn together, but the women must cloak their surging lust for one another.
Lunchtime reading: Carol screenwriter Phyllis Nagy on adapting Patricia Highsmith's novel: https://t.co/zPLtQwQhPypic.twitter.com/RjTn9vrBKG

— Film4 (@Film4) November 13, 2015
Todd Haynes directs:
"I'm drawn to stories that have women at their centers. They seem to me like more stories about all of our real lives because they're defined by very simple, universal things like domestic life and love life and marriages and kids and families. Things that, like it or not, we all come from. And maybe they're less escapist and that also is an interest of mine. It's not what everybody wants when they go to the cinema, but I've always felt that women's stories speak more truthfully about the world and its conflicts and contradictions."

Patricia Highsmith pic.twitter.com/l6DaN4aQHp

— Pablo Maximiliano (@PabloMxoOjeda) November 9, 2015
The original novel was first published as 'The Price of Salt' in 1952 under the pseudonym Claire Morgan due to its then controversial gay theme.
Revisiting a cult classic: Patricia Highsmith's 'Carol' inspiration 'The Price of Salt' https://t.co/TkN9BOKu9lpic.twitter.com/qlrkUQCyf2

— Flavorwire (@flavorwire) November 17, 2015