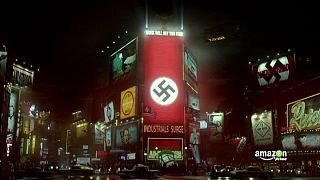 'The Man in the High Castle' portrays a world in which the Axis powers dominate after victory in the Second World War.

The Man In The High Castle - Season 1 Stream all episodes 20-Nov Amazon Instant Video https://t.co/qaQXkEmYatpic.twitter.com/bWWkWBDjHy

— The Portland Blog (@ThePortlandBlog) November 15, 2015
The triumphant National Socialists and Imperial Japan divide up the United States.
Swastikas over Times Square proved a frightening scenario for the cast, as Luke Kleintank and Alexa Davalos explain:"You know, it's chilling. I think they're going to have a hard time accepting it but at the same time I think they're going to be intrigued by it. I mean, it's a piece of history that could have happened."
Kleintank: "America's all about freedom and liberty and all these great sayings."
Davalos: "And those are all the things that I think we take for granted in that sense and this is something that really inspires thought of wow, we wouldn't have all those liberties, we wouldn't have all the things that we take for granted."
The film is based on the
1962 novel by the singular sci-fi writer Philip K. Dick.

Read it before you binge it → the full season of THE MAN IN THE HIGH CASTLE is available on 11/20 #PKD@AmazonVideopic.twitter.com/3511fx1ZOX

— HMH Trade (@HMHbooks) November 13, 2015
A pilot episode was released by Amazon Studios in January 2015 and was Amazon's "most watched pilot ever."

'The Man In The High Castle' Review: Amazon's Alt-History Series Is A Winner https://t.co/AwmrMVoV7Qpic.twitter.com/N9TafOSjBh

— History Insight (@HistoryInsight) November 11, 2015
Writer and producer Frank Spotnitz spoke of the new way the industry now operates:
"The Amazon pilot's process is pretty unique because you make the pilot and then it's shown publicly which is the opposite of the way it's usually done in television. Usually the pilot's just for the broadcaster to see but in this case the viewers vote on whether they like what you've done and decide whether to carry on with the series which was a bit nerve-wrecking. But in our case it was the most popular pilot they've done so it was wonderful because there was a lot of support for doing the series and actually in going forward with the series ."
'The Man in the High Castle' will be available from November 20 on the Amazon Prime streaming service.