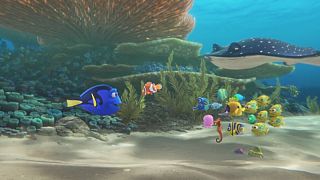 It's one of the most awaited sequels to one of the most popular animation movies: 13 years after Pixar's Oscar-winning 'Finding Nemo', 'Finding Dory', will hit the big screens next year.
The trailer shows the wide-eyed clownfish Nemo worrying about his friend Dory, the chatty blue tang fish, swimming (and talking) in her sleep.
It turns out Dory was dreaming of her family, and now she feels the urge to go and find her loved ones.
'Finding Dory' stars US comedian Ellen DeGeneres as the voice of the friendly — but comically forgetful — Dory.
Speculation about a sequel has floated ever since 'Finding Nemo' became a top-grossing animated film. It reaped more than 800 million euros at box offices worldwide, ranking fourth among animated films, according to box office tracker website BoxOfficeMojo.com.
Europe will have to wait until next June to see if the sequel is as big a success.