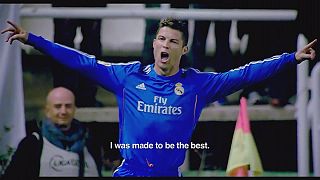 To the delight of fans, Ronaldo has launched his self-titled film in London.
Hundreds gathered at Leicester Square to catch a glimpse of the 30-year-old football player, considered to be one of the greatest of his time.
He dedicated the film to his followers: "The people who really know me, they are not going to be surprised about the movie. But, as I say many times, I did the documentary especially for my fans because they are always with me in my good and my bad moments. So I think they deserve that."
Shot between Real Madrid's European Cup triumph in 2014 and Ronaldo's third Ballon d'Or, the film also features footage of him as a child. According to critics, it offers an intimate portrait of the player and has been described as a revealing and often surprising documentary.
The film was executive produced by the team behind award-winning films on Ayrton Senna and Amy Winehouse.
"I think the way that he surrounds himself with his family and how he has an incredibly loyal core of people around him and has done from a very young age, how focussed he is on playing football, I mean he lives actually a relatively strict life. He comes home and trains and sleeps and does that. No mad partying. That was a surprise – his ability to deal with pressure is fascinating," said the film's director, Anthony Wonke.
Inevitably, the film also delves into the supposed rivalry between Ronaldo and Barcelona forward Lionel Messi. Both are up for this year's coveted Ballon d'Or.
'Ronaldo' the documentary is out now.