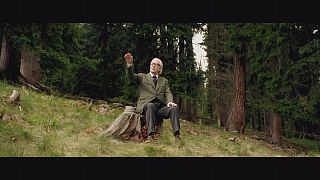 Harvey Keitel and Micheal Caine play a couple of old timers taking time out in a Swiss health resort. Keitel is working on an abortive film script, and Caine is refusing to appear at a Royal Command performance because HRH Queen Elizabeth II wants him to conduct a piece he wrote for his beloved wife who has advanced dementia.
Director Paolo Sorrentino treats us to a series of beautiful panoramas, and a very slight plot. (The film script is abandoned, but the concert goes ahead.)
Paolo Sorrentino, the director, said: "The movie was inspired by real fact. The conductor Riccardo Muti was invited by Queen Elizabeth to play here in London, but they fought about the music to play, and Muti said 'I don't come.' And this simple fact inspired the movie."
Micheal Caine, now 82, said he was thrilled with the script: "It's one of the best scripts I'd had and I usually don't play leading parts in movies anymore because I'm too lazy, but this one, I had to do it."
Youth also stars Jane Fonda, and Rachel Weisz.
For more information see IMDB:"http://www.imdb.com/title/tt3312830/?ref_=fn_al_tt_1"