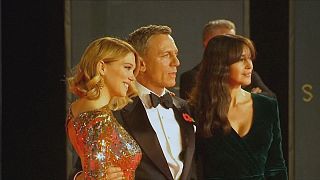 Bond is back in Spectre.
Danial Craig plays 007 James Bond for the fourth and final time in Spectre and for film fans the excitement is intense. The premier in London didn't just attract the usual stars, but also a sizable collection of British royals. Prince Harry, Prince William, and Catherine, the Duchess of Cambridge all turned up to walk the red carpet and see the 24th installment of a film franchise that has become a British institution.
The director, Sam Mendes, said he hoped the film struck a balance between tradition and innovation: "In this film we went a bit more old school glamour and flamboyance, bit more wit and mischief but at the same time we wanted to make it feel contemporary."
It's unsure whether this will be Daniel Craig's last outing as Bond, but speculation is rife about who could potentially take over the role. But the star doesn't have much advice for the next face in: "As an actor you've just got to interpret it the way you see it, so whoever does it after me, they've just got to be good. You just have to make the films as good as you can."
Spectre features two Bond girls: Léa Seydoux and Monica Bellucci, both of whom said it had been an amazing experience being in a Bond movie.
"I was a little intimidated, I have to say, because I was a huge fan of course. I was a huge fan of Daniel, and Sam Mendes, and all the actors and in fact everyone in this film. So yes, I'm so happy. It's been a great gift!" said Lea Seydoux.
"When I met Sam Mendes he was looking for a mature woman. A woman that has darkness, and he created a very dramatic atmosphere around that," said Monica Bellucci.
Christoph Waltz plays villain Franz Oberhauser and said the pressure was on: "I felt terribly pressured to be iconic, and I practiced it at home secretly. It's hard work to be iconic and I'm not quite sure whether I've achieved the proper icon."
Spectre is now on screens worldwide.