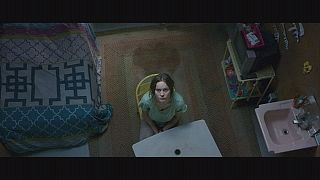 Room, Lenny Abrahamson's new film, is about kidnap and captivity. It tells the story of a woman, Ma (Brie Larson) who is kidnapped and held captive in a shed. Raped by her captor, she has a son, Jack (Jacob Tremblay), and tries to create a beautiful world for him, despite their awful situation.
The subject is hardly a bundle of laughs but the writer of the original novel, Emma Donoghue said: "Because the premise is so dark and strange, this is the kind of film that people could easily misunderstand. So the publicity has been such a gift in getting the word out that this is rather an extraordinary love story."
The director, Lenny Abrehamson agreed: "That's it. To get these audience awards as well as the reviews, it's kind of alerted everybody to what we always knew that this was a story about hope and about love and about childhood and about parenting and that it's there for people to experience and they don't have to be afraid of it."
Brie Larson, who plays the lead role of Ma, said: "What I loved about the story is that it was an opportunity to take something that could seem hard to watch on the surface but to find the heart and the love in it. And it's like my favorite aspect of this human experience, the way that we are able to find love and to survive despite just the smallest of circumstances or the hardest of circumstances."
Room is on screens now, in the US, UK, Poland and Turkey.